How the Process Works
---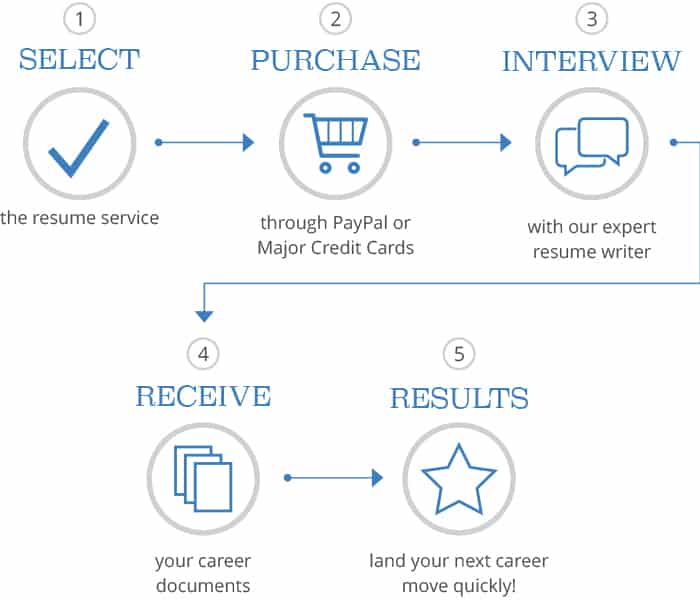 ---
A professional resume is not simply just a purchase it is an investment in your future. How many other documents are as vital? Maybe your passport, birth certificate, or diploma. However, these documents do not help you propel your career, get your foot in the door, or help negotiate your salary. Your resume is a powerful and strategic tool and highly influential as you navigate through your career. Are you ready to get started?
SELECT the resume service: Simply Great Resumes offers two services, a Resume Writing Service and a Platinum Career Package. The resume writing service includes a professionally written resume with the option to add additional career documents such as a cover letter template or rush services. The Platinum Career Package includes a professional resume, cover letter template, cover letter sample, and LinkedIn profile development. If you purchase the resume writing service and wish to transfer to the Platinum Career Package I simply deduct the difference from your paid amount (please note: you have up to 6 months from date of purchase to switch to the Platinum Career Package).
PURCHASE through Simply Great Resumes website or request an invoice either via PayPal, Venmo, Stripe, or via email for you to send a personal check. Please note: interviews will be not scheduled until personal check clears. Once you complete your purchase online you will be prompted to upload your current resume. Payment is required prior to the phone interview.
INTERVIEW with Kerry Gustafson, Executive Resume Writer: Once I am notified of your purchase I will reach out to you within 24 hours (during business hours) to schedule your phone interview/consultation. I provide interviews from Monday – Friday, 9:00 AM – 4:00 PM (Central time) unless specific requests have been made. Please contact me directly if you have questions about current schedule timelines – [email protected] or 612-276-3821.
RECEIVE your career documents: If you purchase the Resume Writing Service you will receive your career documents within 7 days after your phone interview date. Once you receive your documents we will begin the review period (either 2 or 3 weeks depending on experience level – please see package descriptions or contact me with questions). Once the revision period ends any additional updates/modifications will be quoted based on client request and will require payment prior to completion.
For the Platinum Career Package package you will receive your professional resume within 1 week after the phone interview and the cover letter template, cover letter sample, and LinkedIn profile within 2 weeks after the phone interview.
RESULTS Armed with the tools you need to begin your job search, you'll enjoy a new onset of confidence when you apply for positions knowing that you are putting your best foot forward. Check out my blog and follow me on the below social media platforms to stay up-to-date on trends, job searching tricks, and much more!